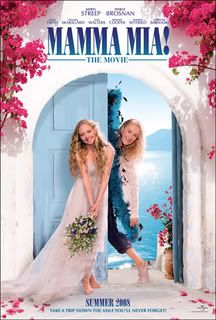 Yesterday I finally made my way to a movie theater to see Mamma Mia!  I truly believe that I am the last gay man on this planet to see this movie.  In fact I believe that there are unborn gay fetuses and gay life on other planets that saw this movie before I did!
I did enjoy the film and plan on making it a part of my video library; however I do agree with some of the comments I have heard other people make regarding the three possible fathers;  I also felt that hearing these men sing was a little awkward, specifically Pierce Brosnon.  I do understand, though, that these men are not singers, they are wonderfully entertaining actors.
The popularity of the musical and now the film is really a testiment to the music of ABBA.  The popularity of their music has certainly crossed over generations.  That fact was evident by the varying ages of the audience members.  One negative aspect of ABBA's populatiry was that the woman sitting next to me would not stop singing or humming along with the characters on the screen!  Unfortunately, I think the only way I could have avoided the sing along would have been if I waited for the film to be released on DVD; who wants to wait that long?!?!?!