Update number two on my fabulous birthday celebration.  This entry finds our party goers in Las Vegas, city of neon lights, dancing girls (and boys), and quickie weddings.  A place where dreams of hitting it big are crushed as each dollar is mindlessly deposited into the millions of slot machines in every building.  Now I have never seen inside of a Police Department in Las Vegas, but I would be willing to bet there are slot machines inside.
We arrived in Las Vegas on Monday July 14 and immediately went to the Flamingo Hotel to check into our room.  I do not know a lot about the Las Vegas strip, but I did know that the Flamingo was not one of the hotels people constantly rave about while discussing Las Vegas.  When we pulled up to the Flamingo, the outside was not much to talk about; however, when as we walked inside, I was pleasantly surprised to find a nice hotel and casino...It was no Bellagio, but it was a nice looking hotel.
While waiting in the check out line I spotted an extremely cute guy; upon further inspection I came to the conclusion that he was gay.  Great, a good looking guy staying in my large hotel, in a city with a sea of different kinds of people.  I was sure I would never see the mystery man or his female companions with the blow pop bouquette ever again.
Upon check in my Mother was able to get our room upgraded to the 28th floor.  The room was a lot more spacious than I would have expected and had an amazing view.  Later, when I slept in one of the queen beds, I realized that the bed was much more comfortable than the one I had at home...  I miss that bed...  The whole time I didn't even think of the likely gallons of seminal fluid on it's mattress and bed spread.  Here is the view from our window.
After dropping off our stuff we put on our swimsuits and went to the pool.  The major reason my Mother wanted to to stay at the Flamingo was because they had an amazing pool area.  I thought it would have been more amazing had the pool been a little more deserted.  I am not used to sharing my water with others :-)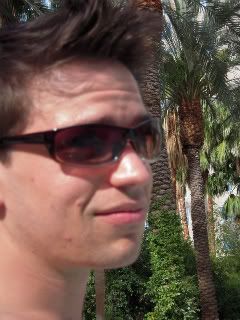 After we finally found a spot we got a couple beers and began lounging around.  It was not long until our lounging was interrupted.  I have heard multiple times that Las Vegas does have many things for visitors under the age of 21; however I have never seen this side of Vegas.  To me Vegas should be an Oasis for parents to escape from their children.
While we were at the pool area I noticed some peculiar behavior from an older woman.  Shortly after I realized that this was no ordinary woman, she was a couger on the prowl!
How very "Wild Things."
After the pool it was out to do some gambling.  Half way through the evening as we were strolling through Harra's someone called out to me.  I turned around there was a group of girls standing behind me.  One of them was holding a bouquette of blow pops.  They asked me if I wanted to give the girl with the bouquette a dollar since she was getting married soon and that she would give me a blow pop.  At this point I had consumed a few beverages, so I told her that I would if I could take it from her cleveage with my teeth...  She agreed!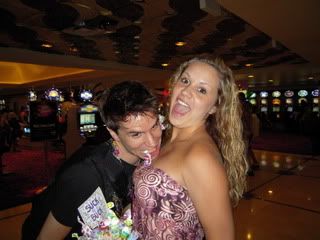 After I got my blow pop she started telling me about their gay friend that was staying with them.  I played dumb, like I didn't already know about him or where they were staying.  I found out after talking to them for a little bit that they were staying at the Flamingo, their friend is 23 years old and that they are from Iowa :-(  As I headed back to my family the girls told me that they would be hanging out at the pool the following day.
 exactly sure when these pictures were taken as there was the slightest bit of alcohol involved in this evening.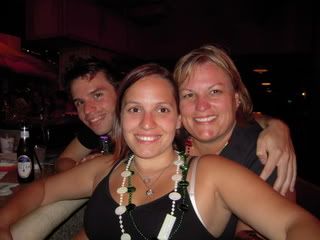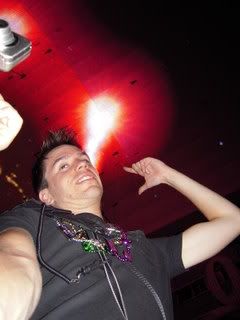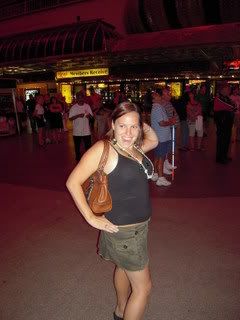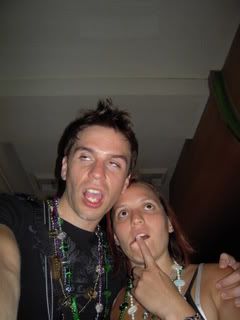 Quick note about the above photo, I was drunk, but not THAT drunk.
Look for my next entry featuring coverage of the Bette Midler Concert!!!  In one word, it was Divine!