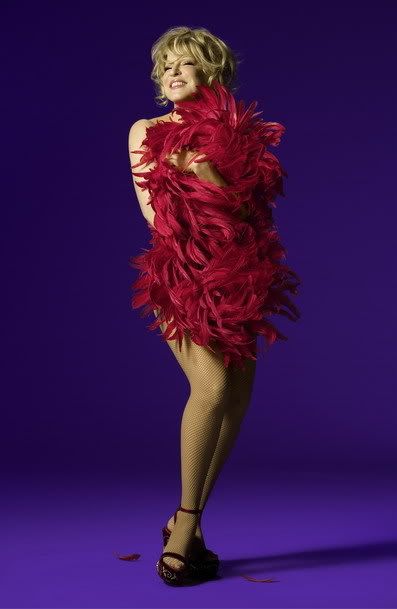 Gather round my fellow gays, fruit flies, and other LGBT supporters.  Here is the entry you have all been waiting for, Bette Midler's The Showgirl Must Go On!!!
It's day two in Vegas for out Birthday party goers.  The night before I went to bed around 4:00 am.  I was the first to go to bed because I was so tired I could barely move!  When I woke up at 6:00 am, I was surprised to see that my Sister was asleep in her bed, but my Mother was no where to be found!
After waiting an hour I sent her a text message asking where she was.  She had not yet gone to bed and was still out on the town gambling!  Long story short, she came back to the room at 8:30 when we all had a bit of breakfast and my Mom and Sister slept for awhile longer.  While I waited for them to wake up, I walked around the hotel to pass time.
As I said, this is the day that we all went to see Bette Midler's new Las Vegas show, The Showgirl Must Go On!  Unfortunately, we were unable to bring camera's into the venue at Caesar's Palace.  Fortunately, the internet is as powerful as Bette's book of spells from Hocus Pocus granting me the ability to include some pictures and a video for your enjoyment.
Originally our seats were in the front row with backstage access and after show cocktails with Bette, but apparently those got lost or are not even offered.  So as a consolation, they gave us seats towards the back.  Apparently the people at Caesar's have absolutely no clue who I am!!!  They will be hearing from my agent...  If I had one.
Trying to decide what show to see while in Vegas is a difficult decision, everyone has a different idea of the perfect Vegas show.  Some people want to see the comedians, some want to see a "cheesy" Vegas show, some just want to see amazing performances, and others want to see legendary performers.  
My Mother wanted to see LOVE, my Sister said she didn't really care, and of course I wanted to see Bette Midler, but was concerned that no one else would want to see the show, or that the tickets were too expensive.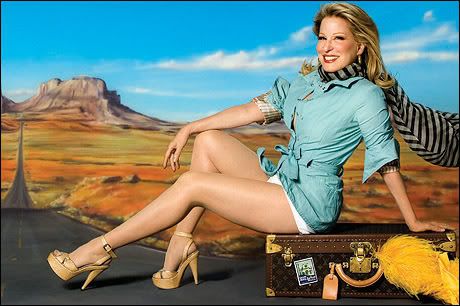 I don't really have a lot to say about Bette's show in Vegas other than that it was absolutely amazing; by far the best concert I have been to, her performance incorporated everything that each of us wanted to see.  You want comedy?  Bette performs jokes as her alter ego, Soph, a 92 year old Las Vegas showgirl with a mouth desperately in need of Orbitz gum.  You want a "cheesy" (not really cheesy, just stereotypical) Las Vegas show?  No problem, Bette's performance includes 18 dancers whom she affectionately refers to as The Caesar Salad Girls.  If it's an amazing or legendary performance you are looking for; HELLO IT'S BETTE MIDLER!!!!
I felt that this was on of Soph's better jokes, "I'll never forget it cha know; my boyfriend Ernie said to me, Soph, if you could learn to cook, we could fire the chef.  I said, Ernie, If you could learn to FUCK, we could fire the chauffer!"
While our seats were in what could be called the "nose bleed" section, there truly are no bad seats in that theater...  Unless you are as unfortunate as my Mother who ended up sitting behind a large man (Not necessarily fat, just large) who was clearly there because his wife told him he HAD to be.  She probably would have withheld sex from the poor beast for a month had he not gone. 
I Could tell he did not want to be at the show because not only did the guy keep moving throughout it, he also felt the need to become shikeh (Drunk) just to sit through it!  Just to make myself clear, being drunk in Vegas at the Bette Midler show is not a terrible sin; however, every time my Mother was able to get a clear view of the show, the guy would shift in his seat obstructing her view once again.  He could have at least gotten his back waxed so she didn't have to stare at that throughout the entire performance.  It seriously looked like the guy was wearing a 
shmaltzy shtreime on his back!
!
I found some more photos on the internet that I felt the need to share because Bette looks so amazing!
Below is a video I found on YouTube to give everyone a glimpse of the show.  The video includes a small preview, some boring B reel of Ceasar's, and Celebrity interviews.  Among the Celebrity interviews is NSYNC'S Lance Bass, with his long time secretive boyfriend Joey Fatone.  As usual Lance just sits back and nods while a Legendary Gay Icon is being discussed by his heterosexual boyfriend who doesn't let him get a word in edgewise.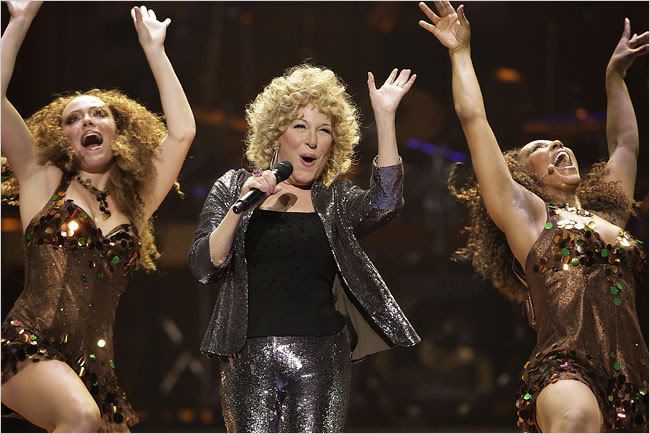 If you are going to Vegas and looking for a truly wonderful experience I highly suggest getting tickets to see Bette Midler:  The Showgirl Must Go On!  The tickets start at $95 and are well worth it.  I know that she is currently taking a break so another gay icon (Elton John or Cher) can preform to their devotes, but I do believe that she will return in October.  
I would hate to see what might happen if Bette finds out one of her Gays was floating around her new kingdom and did not stop by for an audiance with divinity!