Wow, what a week this has been! As I wrote earlier, there was a lot of stuff going on these last few weeks. Let's start with the birthday festivities.
Many of you may know that I turned 25 on July 12. 10 days earlier, my mother turned 52, so you know we had to have a great party!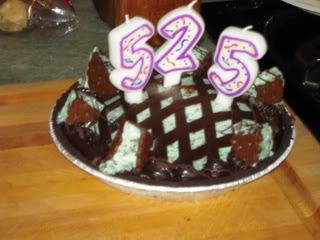 On the 12 my mother and sister flew into John Wayne in Orange county where I picked them up. As soon as they got settled it was off to New Port Beach to meet up with my cousin, Tim. The plan was to go on a walking bar tour, which is basically a pub crawl.
We started the night at Mutt Lynch's off the Beach. We wanted to start there so we could go in a circular pattern and because we like their snack foods. They also have massively large schooners of beer!!!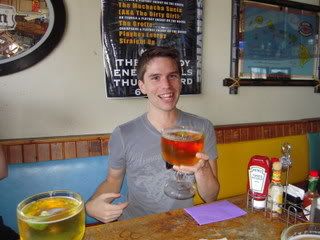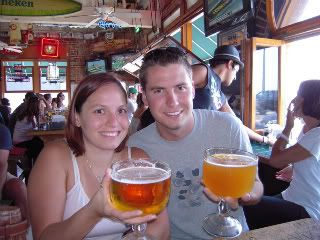 Here we are at Skarky's. Funny that I had never been there.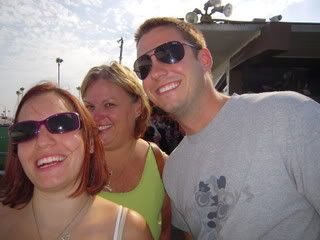 I believe this was the last place we stopped. Don't remember the name of it, but Tim and Katie are making fun of me because of a photo booth picture we all took earlier. This bar was a great place to stop at because for one dollar they had a breathalyzer machine. I wont tell you what we blew, but let's just say that I certainly was in no condition to drive.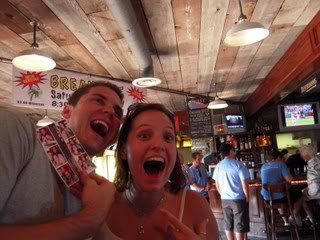 After we had our fun at the beach we went to have dinner at my Aunt Mary's house. She had a very delicious meal and cake ready for us when we arrived. I always like going over there for visits and should probably do it more often. She has a great view over the Anaheim Hills Resevoir and on a clear day you can see the beach and Downtown LA.