Ok kids, here it is.  My final post regarding OUTFEST!  OUTFEST has technically been over for over a week now and most OUTFEST bloggers have already finished their OUTFEST entries so I apologize for the delay.

On Saturday July 19, 2008 Johnny and I went to the DGA to see Another Gay Sequel:  Gays Gone Wild.  As the title suggests this movie is the sequel to Another Gay Movie; both of which were written and directed by Todd Stephens who also directed Gypsy 83 and Edge of Seventeen.
Another Gay Movie tells the story of four High School friends (Andy, Jarod, Griff, and Nico) in their journey to loose their anal virginity before they go to college.  Hilarity ensues in this gay parody as they get themselves into sticky situations; no pun intended.  
Another Gay Sequel follows the same group of friends on their Spring Break in Fort Lauderdale.  This time the foursome enter a competition with multiple other spring breakers called Gays Gone Wild.  The point of the competition is to see who can have the most sex during spring break.  Once again, the four friends find themselves in awkward, raunchy situations along the way.
Due to some industry drama, three of the four friends look slightly different in the sequel than they did in the first installment.  Here are photos of each character in a segment I will call Cherry (Another Gay Movie) and Cherry Popped (Another Gay Sequel)
Andy Wilson
Michael Carbonaro VS Jake Mosser
Both did a great job in the role as Andy and both will have promising careers ahead of them; however, I do have to say that I prefer Michael as Andy.  I guess it was just odd to imagine another actor playing that role.

Jarod
Jonathan Chase VS Jimmy Clabots
Both boys did an excellent job playing Jarod.  Both are equally attractive; however, if someone was holding my dog hostage, telling me I had to chose one or my puppy would be killed I would choose Jimmy because I found the relationship between Jarod and Griff more believable in the sequel.
Griff
Mitch Morris VS Aaron Michael Davies
Let's start by saying the I could not find a decent picture of Mitch that resemled his portayal of "Horse Hung Griff," so this not what his character looked like.  Mitch and Aaron did an amazing job at the role of Griff.  I really could not choose one over the other.  I will add that I LOVE "dorky" men so both of these guys, in my opinion, are hot!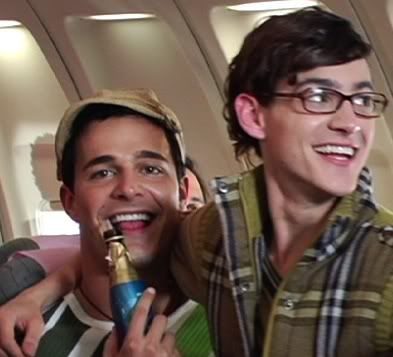 The movie itself was hilarious!  There was a lot of product placement throughout the film, which I could have done without; however, I do understand that it helped get the movie made.  I also feel that they handled it in a way that was humorous, which made it's presence more acceptable.
When Johnny and I got to the DGA we were rewarded with the very last parking spot in their adjacent structure.  We also got one of the best parking spots, near the front; what some would call rock star parking.  
Before entering the building we went to The Coffee Bean, which was directly across the street.  As we made our way back towards the DGA I ran into JD Disalvatore who produced the my first film, Neurotica.  A few seconds later we ran into my friend Brian Nolan who was with Peter Stickles and David Moretti, his cast mates from Here Network's, The Lair.  After briefly catching up with them, Johnny and I headed inside where we saw a gay bottle of vodka and decided it was time for a few photos.  Little did I know the flash had been shut off on my camera.
After these photos were taken, we got into the ridiculously long line to see this film.  If you have ever been to one of the more anticipated OUTFEST films you know how long that line can be.  Next year it would be nice if I could afford an OUTpass.  An OUTpass grants you first access to seats without the hassle of buying a ticket.  You just show up, flash em your pass, and go in.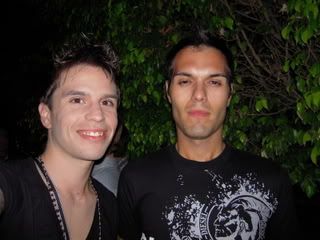 After a little while our measly general admission line began to move.  As Johnny and I approached the entrance to the building, there were whispers that there might not be enough seats.  Luckily, Johnny and I were allowed to enter the theater and even found seats in the third row!  Tonight was definitely making me feel lucky.
After the movie screened we stuck around for the Q & A session where they bring the cast up on the stage.  As usual, everyone was a little shy to ask the first question.  Suddenly from the farthest reaches of the theater one brave soul raised his hand for the first question, "Were there any on set hook-ups?"  Everyone clearly started to giggle at the question.  Understandably no one from the cast seemed to want to give up any secrets, until Perez Hilton (who played himself) stood up and almost spilled the beans.  Thank god he respected people's privacy enough.  Had I been on set and hooked up with someone, I would not have been to happy with him for telling people.  Loose lips sink ships, Perez.
After everything was done at the DGA, it was off to the after party at the Here Lounge.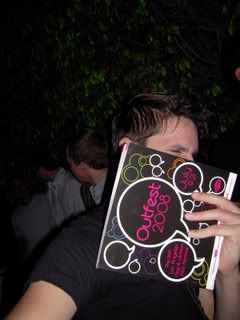 Once again the place was packed forcing everyone to manuver around ass to crotch.  I did manage to spot Brian Nolan as we entered, so we went to talk to him.  We found out that not only did he and his friends not get into see the movie since they ran out of chairs, but that they also were able to receive a refund for their tickets!  You know there would have been hell to pay had I been in that situation...  I did find it slightly amusing that Brian and his friends, who are on some kind of a celebrity list, did not get into the movie, while I had rock star luck that evening...Well that is until I realized that they were allowed in the VIP areas at the after party while I was barely allowed to look inside.
The total night and the complete experience I had at OUTFEST was wonderful.  I will definitely be going back for next years movies; hopefully I will be in at least one of them!